TWAEA WAS INVITED TO PARTICIPATE IN QAPHE'S INTERNATIONAL SYMPOSIUM – PROMOTION OF INTERNATIONALIZED TECHNICAL AND VOCATIONAL EDUCATION
TWAEA WAS INVITED TO PARTICIPATE IN QAPHE'S INTERNATIONAL SYMPOSIUM – PROMOTION OF INTERNATIONALIZED TECHNICAL AND VOCATIONAL EDUCATION
Taiwan Assessment and Evaluation Association (TWAEA) has long been committed to the promotion of the higher education quality assurance system, continuing to communicate and interact with other foreign professional evaluation organizations to grasp the changes and link to international evaluation trends. "Institution for Accreditation and Quality Assurance of Professional Higher Education" (QAPHE) from Japan, the main responsible organization for the evaluation of professional university, organized an International Symposium on "Professional Higher Education Contributing to Technological Innovation". TWAEA's Chairman, Jimmy C.Y. Yung, was specially invited as international guest to join this symposium for online speech. Mitsutoshi Kobayashi (Chairman of Tokyo Professional University of Health Sciences, Keishin Group), Yoko Ohara (Chairperson Emeritus of Women's Empowerment in Fashion) and Shigeto Funaki (Senior Specialist of the Office for the Promotion of Specialized Training College Education, Lifelong Learning Promotion Division, Education Policy Bureau, Ministry of Education, Culture, Sports, Science and Technology) were all invited to deliver speeches in this grand event.
The symposium firstly opened by the Representative Director of QAPHE, Akihiko Kawaguchi, for the explanation of the evolution and progress of professional higher education in Japan, he mentioned that professional higher education is the main force to drive the technological innovation, and the focuses are extended to quality assurance and future development. After the opening address, our Chairman started his presentation on "Quality Assurance System of Higher Education in Taiwan - A TVE Approach". Dr. Yung started with the evolution of higher education evaluation and policy changes, plus the evaluation experiences he has learned from the technical and vocational education to compare with Japan's professional higher education, especially the content of evaluation. In his speech, he emphasized that at current stage, the institution management focuses on strengthening its own characters and positioning. The evaluation becomes encouraging the institutions to develop their characters and improvement mechanism.
Three more Japanese speakers came afterwards to deliver keynote speeches, which were Chairman Mitsutoshi Kobayashi's "Current Status of Professional Development in Japanese Higher Education Institutions", Chairperson Emeritus Yoko Ohara's "How Japan Can Provide Professional Development - Learning from the Fashion Institute of Technology (FIT) in the United States" and Senior Specialist Shigeto Funaki's "Vocational Education Management by Vocational Schools". The current relevant regulations and government statistics are applied to analyze the positioning, current situation and teaching quality assurance standards of Japanese vocational education. These three speakers all took this opportunity to raise topics and point out key issues from the current professional higher education in Japan, hoping to come out with improvement strategies through the discussion.
The final panel discussion was hosted by Representative Director of QAPHE, Akihiko Kawaguchi; in addition to our chairman and the three Japanese keynote speakers, the chairman and president of Hollywood Graduate School of Beauty Business, Yoshihiro Yamanaka was also invited to participate. In this session, they discussed about the issues as current professional higher education, the changes in social environment and evaluation awareness. Dr. Yung proposed Taiwan's vocational education as an example to further illustrate the importance of industry practices to technical and vocational education. He also mentioned about the challenge of low birth rate facing by Japan and Taiwan at the present and launched an in-depth conversation with the Japanese representatives. Both Taiwan and Japan benefited a lot from the symposium, especially the part of technical and vocational education evaluation. We look forward to further opportunities for cooperation and exchange of experiences in the future.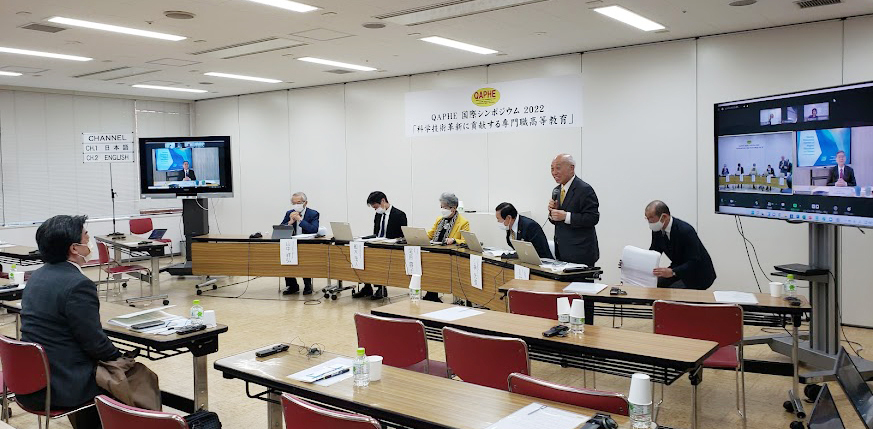 Site of 2022 QAPHE International Symposium "Professional Higher Education Contributing to Technological Innovation" in Japan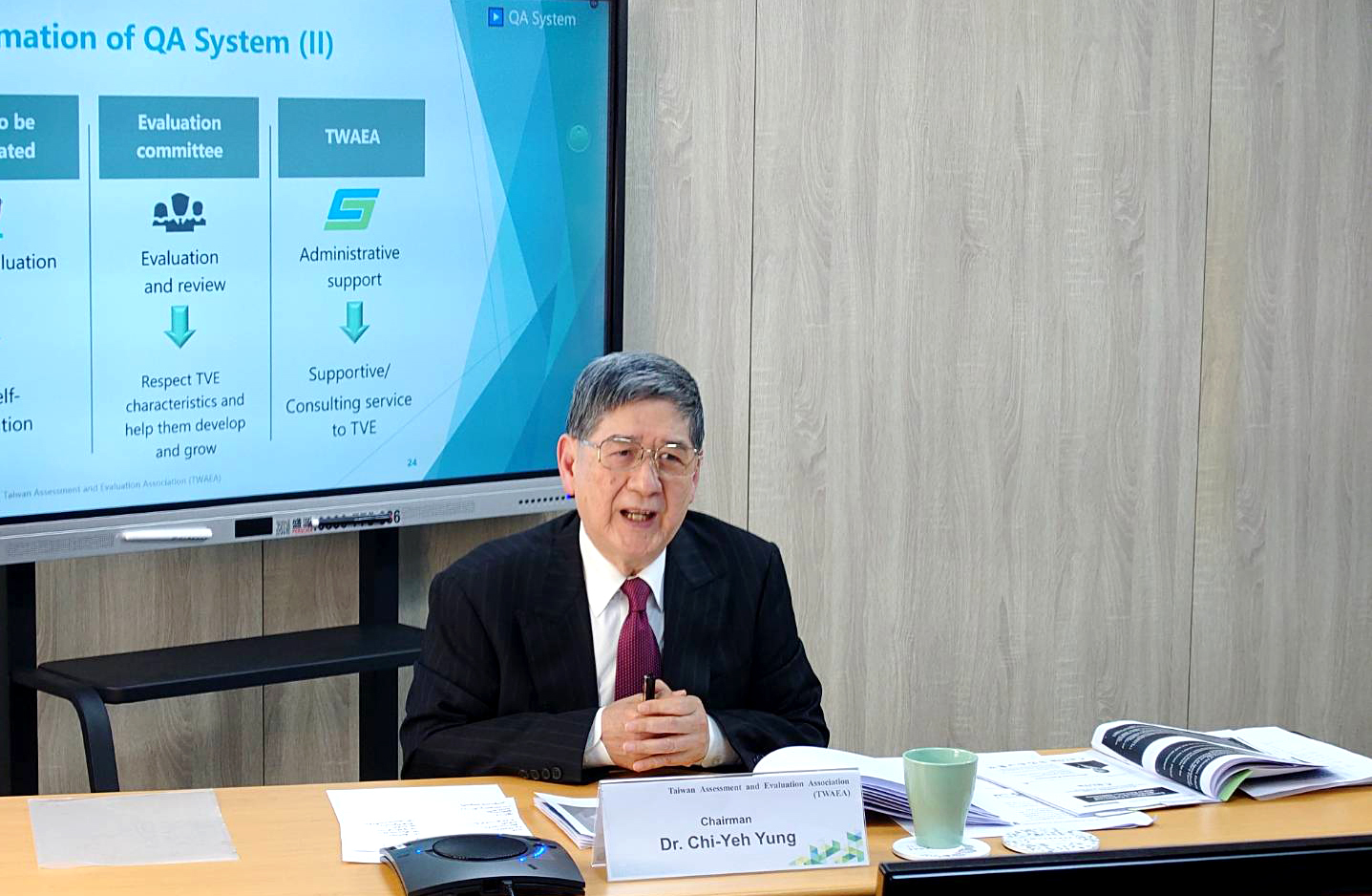 TWAEA's Chairman, Jimmy C.Y. Yung, addressed the keynote speech at 2022 QAPHE International Symposium.
Both online and physical communications were applied at 2022 QAPHE International Symposium.